Corns
Corns are discreet areas of thickened hard skin that arise from direct pressure to the area. Corns are the most common of all foot problems and come in various forms. The most common are hard corns on the top of toes and soft corns between the toes.
For further information please see these datasheets:
Recommended Carnation Footcare Products: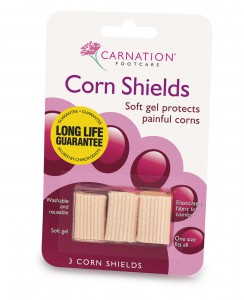 Carnation Footcare Corn Shields
Advanced soft polymer gel protects and relieves painful corns, absorbing shock and reducing friction.
Slim design, elasticated fabric outer keeps the shield in place and stretches to fit all sizes.
Contains mineral oil to soften and moisturise the skin – can help to gently remove corns and prevent pressure which causes reoccurrence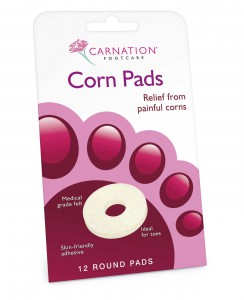 Carnation Footcare Round Corn Pads
Proven approach to pressure relief on painful corns.
High quality chiropody felt to absorb impact.
Available in two shapes, round for corns on the side of toes and oval for corns on the top of toes.