Chilblains
Chilblains are small itchy areas that occur as a result of the body's reaction to cold temperatures. Initially the blood vessels in the skin can decrease in diameter. Then later, as the temperature increases, the blood vessels expand allowing blood flow to speed up with intense itching as a symptom.
Recommended Carnation Footcare Products: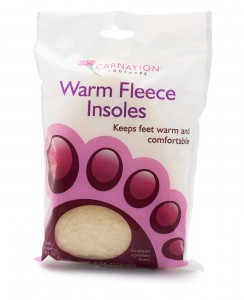 Carnation Footcare Warm Fleecy Insoles
Keeps feet warm and comfortable.
Designed with thick, warm fleece top layer to keep feet snug.
Cushioning comfort foam base offers all day comfort.
Cut to size for perfect fit.
Can be washed for repeated use.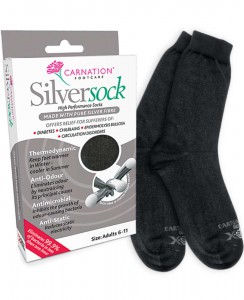 Carnation Footcare Silver Socks
Every fibre coated in silver.
Anti-static, anti-odour and antimicrobial, inhibiting the growth of odour-causing bacteria.
Thermodynamic, keeping feet warm in winter and cool in summer.
Developed to meet the needs of patients of Great Ormond Street Hospital.
Offer relief for people suffering from conditions such as diabetes, circulation problems and chilblains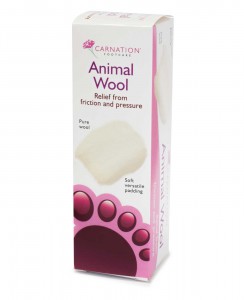 Carnation Footcare Animal Wool
Made from pure wool.
Can be used as padding or a general wrap to protect toes and feet.
Can also be used for chilblains and to give relief from pressure and soreness.